From Google Docs With <3
in collaboration with Marjorie Potiron;
collaborative writing theatre play, live online show, Google document, Skype, emails, OBS live stream;
staged for the first time on the occasion of the Artist Ambassador Convention,
WWW/UK, 2016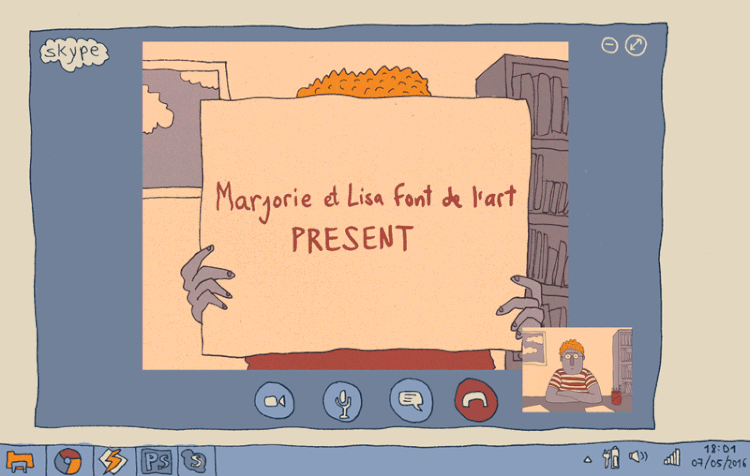 « Let´s create a beautiful mess ! »


What kind of narrative structures can be found in cyberspace? From Google Docs with <3 is a digital Cadavre Exquis. A Google Document becomes the central meeting point for a group of people from different time-spaces to write and stage a theatre play. A protocol frames the process whereby everything remains discussable, changeable and fluid.

After one week of collaborative writing, the play was performed for the first time as The Saturday Night Live Online Show using the live stream service OBS, live Skype calls, Youtube and other media to interpret the text, videos and images put together by the co-creators. The Saturday Night Live Online Show is to be seen as a spontaneously staged snapshot within the process of writing and rehearsals, which in itself was a public event. As a final iteration, a short movie evolved from the recordings of the performance, titled « a shortcut to THE SATURDAY NIGHT LIVE ONLINE SHOW ».
Production: Artist Ambassador Convention/Food Sketz
Direction: Lisa Hoffmann & Marjorie Potiron
Starring: Kenza Benabderrazik, Antonije Buric, Loran Chourrau, Robyn Cole, Erik Damiano, Perrine Delorme Rivory, Roman Detyuk, Victor Filin, Rachel Garcia, Anaïs Hay, Lisa Hoffmann, Johanna F. Krüger, Manor House (Natalie Oleinik & Seb Kann), Marjorie Potiron, Jérôme Saget, Vinicius Timmermann
Music: Steven Whiteley
Illustration: Cristian Pineda Amo
<<<<<